Can you believe it is August already?  Vacations are over, kids are back in school and summer is nearing the end.   So, naturally we think cooler weather will be here before you know it, right?   While that may be true on the east coast, for those of us in the desert, not so much!   We are smack dab in the middle of our summer.  Monsoons are in full swing, humidity is high and we just might be carving pumpkins before WE begin to feel the cooler weather. 😉
With the heat still upon us, you may not be feeling the love for getting into the kitchen and cranking up the stove.  My body naturally craves more raw foods this time of year to help counteract dehydration and loss of electrolytes.  When I do cook veggies or a piece of fish, I like to serve them on a bed of crisp lettuce, sprouted greens or perhaps some zoodles.  If you are wondering what the heck zoodles are, no worries.  Simply put, they are noodles made out of raw zucchini.  Zoodles were the start of the veggie noodle craze which began when people were looking for a healthy, grain free alternative to pasta.  Not only are you eliminating empty calories by ditching the pasta, you are boosting the nutrition by using veggies as noodles!
The trend really caught on and now veggie noodles are made from all types of produce utilizing some very interesting gadgets.  When I first started playing around with the idea, I bought a handheld spiralizer.  This is similar to a pencil sharpener for veggies and works well on softer vegetables like cucumber, zucchini, and small carrots.  It was not too long before I expanded my repertoire and bought a countertop spiralizer.  This type attaches to the countertop with a suction and uses a hand crank which is great for making noodles out of root vegetables such as sweet potatoes, beets or butternut squash.  There are a variety of blades so you can get really creative and wow your guests at your next dinner party!   If you don't want to buy any new gadgets, you can always use a box grater, melon baller or the good old vegetable peeler.  Honestly, my favorite is the box grater!  It is fast and easy to clean.
Now that you are ready to zoodle, check out the photo below.  This is what is in season right now at the farmers market.  One of my favorite veggies this time of year is the heirloom summer squash.  They come in all sorts of shapes, colors and sizes.     We have lemon squash, Zephyr squash and Delta crookneck from Montoya Heirloom Farm.  The super long green ones are called Nino's.  Sleeping Frog Farms grows them using a seed from Native Seed Search.  The taste is different from a regular zucchini.  I think they are softer with a sweet, buttery taste.  All of these are perfect for making veggie noodles.
Also pictured are a couple varieties of eggplant (yes, that white one is an eggplant), lemon cucumbers and okra.  Now, I know some of you may be rolling your eyes at the okra.  Trust me, this is not your mama's okra.  When cooked properly, they are firm and super delicious!  I sauté mine with onions, tomatoes and artichoke hearts.  And, if you have never tried a lemon cucumber, you do not know what you are missing.  They are much lighter tasting than a hothouse cucumber with a hint of, you guessed it, lemon!  Great for munching or adding to your water for a refreshing treat.   You are not likely to find these unique varieties of produce at the grocery store.  Just one of the perks of a farmers market…new and interesting veggies! 😉
If you are wondering what kind of sauce or topping to put on your zoodles, the sky is the limit!  You can make a simple raw tomato sauce with a variety of tomatoes, garlic, olive oil and a pinch of salt.  If you prefer something creamy, cashews and/or avocados make a great base for a non dairy sauce.  Just add water, lemon juice and a pinch of salt.  Make sure to soak the cashews overnight.  This will help make the sauce extra creamy.
One of my favorites is the recipe below, creamy red bell pepper sauce.  This comes together really quick…you just throw everything in the blender and you are done.  The little bit of carrot adds some sweetness without adding any sugar.  I like to use avocado oil, but you can certainly use olive oil.
So, beat the heat and try some zoodles!  I hope to see you at the farmers market real soon.  I will be the one hoarding the squash!!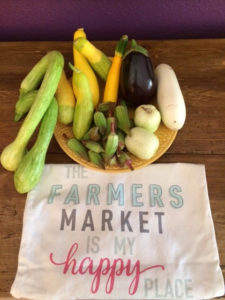 Creamy Red Bell Pepper Sauce
1 large red bell pepper
1 1/2 Tbs. apple cider vinegar
1/4 c. shredded carrot
1 Tbs. fresh ginger, grated
1 tsp. sea salt
1/4 c. avocado oil
1/4 c. water
Blend all ingredients in a high speed blender until smooth. If you like garlic, toss in a clove. You can also add some red pepper flakes for a bit of heat.
Enjoy!