Today, I am going to tell you about Joe Pinella and I have to say, this is one of the most amazing stories of healing that I think I have ever heard. I was first introduced to Joe several years ago when I attended one of his Qigong classes here in Tucson. I had been studying and practicing Qigong for quite sometime with a teacher in New Mexico and I was thrilled to find someone local. Joe was the picture of health. Great energy, fit body and sharp mind. You can imagine my surprise when I was told that at age 42 Joe had been a quadriplegic. No feeling or movement from the neck down. How could he be standing in front of me moving his body with such ease? Keep reading because I am going to share his incredible healing journey.
In 1981, Joe was driving his Bronco while towing a trailer. The hitch broke which caused the trailer to slam into the back of his truck. As the truck careened down a 200 ft. ravine, Joe was thrown through the windshield. The impact broke his neck and back leaving him paralyzed from the neck down. Joe was flown by helicopter to a nearby hospital and spent 18 hours in the ER getting stabilized and then 10 hours in surgery. During his time in the ER, Joe was having what he described as an out of body experience. He was above his body looking down and all the while, he had this sense that everything was going to be okay. The doctors however were telling him something very different. They said he would never have use of his arms or legs. He would have to operate a wheelchair using a mouthpiece. Essentially, they were telling him there was no hope.
Joe spent the next thirty days in the hospital enduring multiple surgeries. There was no change in his condition. He was released to an outpatient physical therapy center and still no improvement. Frustrated with the medical community, Joe checked himself out and stopped all treatment.
As a youth, Joe studied Qigong at a Buddhist temple in New York. While he was there, he noticed that people came to the temple for medical attention. They were treated with herbs, acupuncture and medical Qigong. At a loss for what to do next, Joe contacted the temple to see if they could help. The monks told him to do Qigong. Since he could not move his body, they told him to do the movements in his mind and eventually his body will follow. Joe was so determined to heal that for the next year he got in a hot tub everyday for 3 hours in the morning and 3 hours in the afternoon and visualized his body moving. After 8 months, his arms started to move and he was starting to get feeling in his body. Although the "feeling" was incredible pain, it was better than no feeling at all. Joe began to do the Qigong movements he learned as a youth and he continued to progress slowly. He wore various neck and body braces for almost 4 years and after 8 years, Joe was completely healed!
Fast forward to about a month ago and one of my friends asked me if I knew Joe Pinella. He had just heard Joe speak at a rotary meeting and was blown away by his personal story. Following his recovery, Joe began teaching the Qigong movements that he used to heal his body. He created a program called Healing Movements System. It is a combination of Tai Chi and Qigong exercises that can be done by anyone regardless of their physical condition. These exercises use breathing techniques, postures and special movements to harmonize and heal the body. Qigong has a long history as a healing modality and has been proven to have beneficial effects on cancer, neurological disorders, chronic pain and many other health challenges.
You know the saying, "when the student is ready, the teacher will appear?" I think that is exactly what happened for me. When I met Joe several years ago, these exercises did not seem to resonate with me. I am not sure why but now I was feeling called to do them. Probably because for a while now I have been a total slacker on doing any kind of consistent stretching or strengthening exercises 😉 I do some yoga stretches and Qigong in the morning but, I knew I needed to do more. So, I got Joe's DVD and I have been hooked ever since!
I have been practicing the exercise routine faithfully every morning for the past month. I love how easy it is…it almost does not even feel like exercise. The movements create a sense of calm and at the same time, I feel energized. The first thing I noticed was a huge improvement in my posture. Because of my job as a massage therapist and my passion for bike riding, I was becoming increasingly aware of my rounded shoulders. I was slouching all the time! After about two weeks of doing the exercises, I was in my car at a stop light and I suddenly realized that I wasn't slouching. It took no effort at all for my shoulders to be in a relaxed upright position. I was shocked!! The other thing I have noticed is that my nagging leg pain I was complaining about has decreased. I do think part of the credit goes to the ChiWalking but I know the movement exercises have made a dramatic difference.
The beauty of this program is two fold. You are exercising your physical body (muscles, ligaments, bones) and you are also exercising your energetic body (thoughts, emotions). Often our thoughts can be at the root of our pain. The thoughts get stored in the body creating blockages of energy. When we work to release these blockages, we can begin to heal our pain. The combination of Qigong and the movement exercises gives you the tools to bring balance into your body and into your life.
If you are interested in this program, you have a couple options. You can buy the DVD for $50 or you can get a lifetime membership with unlimited content for just $39 http://balancedlifeteam.mykajabi.com/pl/28004. This is a special deal that I was able to get for you but it is only available until June 14, 2018. When you click on the link above, you will need to sign up for the free ebook. Once you do that, you will get to the page to join. Enter DENISE as the code and you will get a lifetime membership for just $39. That is an awesome deal, trust me!
I hope you give this a try. The only thing you have to lose is your pain 😉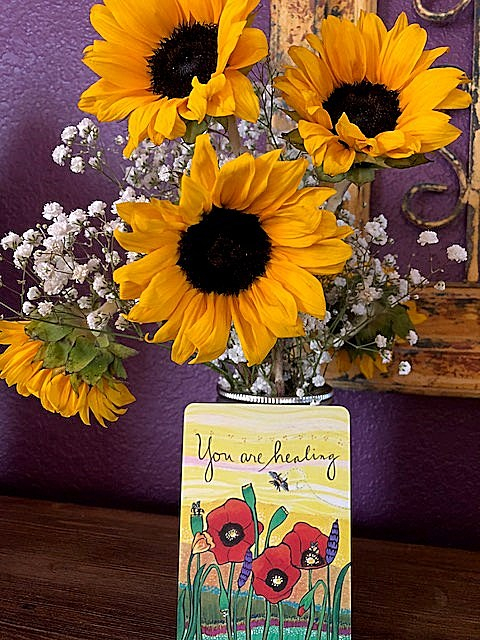 P.S.
If you live in Tucson, Joe teaches a class on Saturdays at 10:00 a.m. in the Heritage Highlands Clubhouse. The cost is $10. He is on vacation right now, but classes will resume on June 19th.