Many of you know about my love of chocolate.  I mean what's not to love, right?   But when it comes to chocolate, I am a total purist.   I go for the real deal…raw, organic cacao.  I remember the first time I tasted raw cacao.  It was about ten years ago when I attended a class on how to make your own chocolates. That first taste of cacao mixed with just a few simple ingredients….well, let's just say it was love at first bite!!  But lately I have been experimenting with using carob in my recipes and I have to say I am loving it!!  Could carob be my new chocolate??  Yes and no….let me explain.
Carob has been gaining momentum in the health food world and for good reason.
Carob is comparable to chocolate in many ways so it makes a great alternative for those who are sensitive to chocolate or want to enjoy a treat without caffeine.
Carob is actually a fruit from the carob tree.  It grows in brown pods that look like beans and it is native to Africa and the Middle East.  The taste is sweeter than chocolate and has an almost nutty flavor.  In addition to being naturally caffeine free, carob is full of vitamins and minerals such as Vit A & B, calcium, potassium, magnesium, zinc and selenium.  It also contains fiber and protein.  The one thing it does not contain are oxalates.  Oxalates are naturally occurring compounds in foods like legumes, nuts, leafy greens and chocolate.  Oxalates can bind to other nutrients in your food and prevent your body from absorbing these nutrients.  In high amounts, oxalates can contribute to the formation of a common type of kidney stone called calcium oxalate.  If you have a history of kidney stones, it is important to recognize the role of oxalates and perhaps adjust your diet accordingly.
The fact that carob is caffeine free is what initially drew me to it.  Sometimes I want a piece of chocolate in the evening, but I am pretty sensitive to caffeine so eating chocolate at night would leave me tossing and turning instead of blissfully sleeping.  So, I decided to give carob a try and I was not disappointed.  For starters, carob comes in powdered form so it is easy to incorporate into your recipes.  I like the Sunfood Superfoods Organic Carob Powder.  Compared to chocolate, carob powder has a slightly grainy texture but I have not found this to be an issue when I make my candies.  You can also use carob chips.  I have not tried the carob chips yet but I have heard they do not melt as well as chocolate chips.  Something to consider if you want to use them in a recipe.
Speaking of recipes, I want to share one of my favorites.  Initially, I used cacao in this recipe but I think I like it even more with carob.  I do not add a lot of sweeteners to my chocolates which is why I love lucuma.  If you are not familiar with lucuma, it is a fruit native to Peru.  In fact, the Peruvians call this fruit the "Gold of the Incas." Lucuma is a low glycemic sweetener that is rich in antioxidants, vitamins and minerals.  It is sold as a powder.  I like Navitas Organics Lucuma Powder.  The Living Foods Superfood Crunch is a raw, sprouted cereal that adds a great texture to the chocolates.  Radiant Rasberry is my  favorite flavor!
Chocolate will always be my first love.  But carob has a special place in my heart as well.  When I am want a little treat in the evening, I know that I can grab a carob crunchy to satisfy my craving and I will still sleep like a baby!!
Give this recipe a try and let me know if carob is YOUR new chocolate too!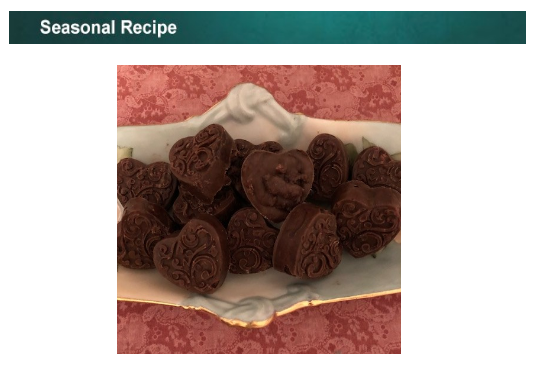 Carob Crunchies   
1/2 cup coconut crème
1/4 melted coconut oil
6 tbs. carob powder
2 tbs. lucuma powder
1/2 tsp. vanilla extract
4 tbs. Living Intentions Superfood Crunch
pinch salt
1.   Combine coconut crème and coconut oil.
2.   Add remaining ingredients and stir to combine.
3.   Spoon into molds and freeze for 30 minutes or until firm.
4.   Store in refrigerator in glass container.
Friend me on FaceBook for more healthy lifestyle tips and visit my website to sign-up for a FREE 30 minute health history consultation.