Halloween is just two weeks away so it's no surprise that the store shelves are piled high with every kind of candy imaginable.  In fact, there's so much of it that some stores have devoted an entire section just to Halloween candy!
With all this candy, I know it can be soooo tempting.  You really don't want to buy a bag but then you start thinking to yourself, "As long as I'm here I should get at least one bag for the trick or treaters."  Sounds familiar, doesn't it?  I'm pretty sure we've all had this thought at least once which means you probably know what happens next.
You bring the candy home and put it in the cupboard because, as we know, if it's out of sight, it's out of mind!  But before long you hear the candy calling your name.  It starts innocently enough so you decide to have just one piece but then you have another and another and before you know it, you're left holding the empty bag!   And then, to add insult to injury, you find yourself heading back to the store to pick up more candy…..for the trick or treaters, of course!
If this sounds familiar, you are not alone.  Halloween is the gateway to the holiday season and it can definitely be our first misstep on a very slippery slope into "sugar land!"   We all know the evils of sugar and we know how difficult it can be to avoid it.  If you're eating the standard American diet, sugar is in almost everything.
Did you know that most adults eating a standard American diet consume an average of 22 teaspoons of sugar per day?  And children consume up to 35 teaspoons a day thanks to all the soda and energy drinks.  Sugar causes high blood pressure, high cholesterol, heart disease, obesity, diabetes and even cancer.  In fact, sugar is the number one "food" that feeds cancer cells!  And on top of all that, it's highly addictive!
Studies show that sugar may actually be more addictive than cocaine!  Now that's scary!  I remember when I was growing up my dad had a huge sugar addiction.  He would go through these phases where he would get hooked on a certain kind of candy.  There was the Jordan almond phase, then the licorice phase and then the Werther's butterscotch candy phase.  And if he saw fudge anywhere, look out!  He loved fudge so much that he actually looked into getting a job in a fudge shop after he retired!  Thankfully that did not work out..lol.
When my dad found out he had high triglycerides, the doctor told him to give up the candy.  He tried but it was tough.  I can still see him coming home with his stash of candy and hiding it so my mom would not find out he was eating it.  We would laugh about it, but his addiction was so strong, he was never really able to stop eating the candy.  This was many years ago and we did not know just how bad sugar was.
In my health coaching practice, I always strive to meet my clients where they are in their wellness journey.  I never want you to feel deprived as you try to make healthy diet and lifestyle choices.  But we all get cravings so, if you are craving a sweet treat, I have the perfect recipe for you.  It is my version of a Reese's peanut butter cup.  That's right….you can make a healthy Reese's peanut butter cup!  In fact, this recipe is so healthy it only has two ingredients, chocolate and sunbutter!!  There are no added sugars or fillers which means you don't have to hide this candy in the cupboard!
As the name suggests, the traditional recipe calls for peanut butter.  I tend to stay away from peanut butter because peanuts typically have a high mold content and I definitely don't want to be eating mold!  Instead, I use sunbutter, which is sunflower seed butter.  It has a very similar consistency to peanut butter and I think it works really well in this recipe.
Now you know I love my chocolate, but if I eat it in the afternoon or evening, it tends to disrupt my sleep.  Because of this, I like to make two batches of this recipe.  One using carob and one using chocolate.  I've never been able to find a good quality carob bar until recently when I discovered a company called NaamNom.  They make carob bars with NO added sugar!  The main ingredients are carob and cacao butter….that's it!  They have an amazing selection of flavors and you can check them out here.  Some do have nuts or dried fruit but that's it.
I was so impressed with these bars that I ordered a few boxes in case any of you would like to try them.  I was able to buy them at wholesale which means I can pass that price on to you.  They are $3/bar.  So, if you want to make these sunflower seed butter cups with carob, these bars are a great choice.
I hope you give this recipe a try.  I promise it will not disappoint!  And, the next time you walk down the candy aisle, listen to the voice in your head.  I think it will be saying "go home….the sunbutter cups are waiting for you!"
Enjoy 🙂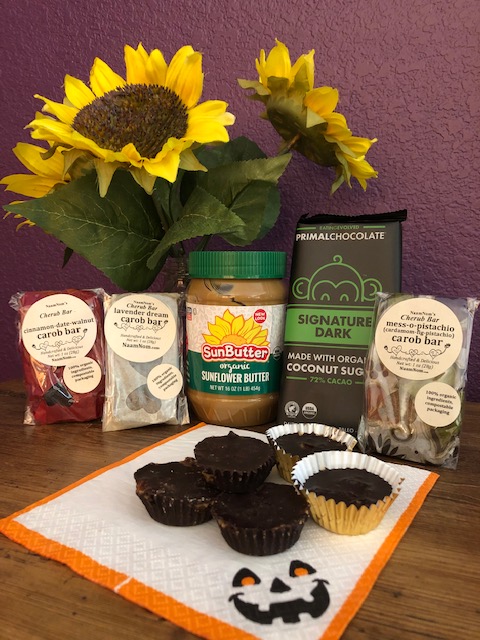 Chocolate Sunflower Seed Butter Cups
Ingredients 
2 Dark Chocolate Bars (see my comments below)
12 teaspoons Sunbutter Organic Sunflower Seed Butter
Directions
1.  Put the chocolate bars in a glass bowl and place the bowl over a pot of  water.
2.  Heat the water to a low simmer and allow the chocolate bars to melt.
3.  On a baking sheet, arrange 12 paper cups.  In each cup, drop one teaspoon of chocolate, then one teaspoon of sunbutter.  Top each cup with another teaspoon of chocolate covering the filling completely.
4.  Refrigerate for at least 30 minutes.
Comments:
I have two brands of chocolate bars that I like to use for this recipe.  One is the Signature Dark Primal Chocolate bar by Eating Evolved (http://eatingevolved.com) and the other is the Simple Dark Chocolate bar by HU Kitchen (http://hukitchen.com   Both companies have a variety of flavors and you can order them online or find them at Sprouts, Natural Grocers or Whole Foods.
P.S.  I found the little paper cups at Michaels.  75 cups for $2….screaming deal!